This summer we're highlighting experiences from our cybersecurity internship. Our interns immerse in the world of cybersecurity for IT and OT operations and become part of the team at TDi. They contribute to projects and learn the soft and hard skills that help them succeed professionally.
If you missed it, you can read our cybersecurity internship program overview here to see our approach to cultivating the next group of leaders to protect  IT and OT operations.
Meet Hector, our Cybersecurity Intern for UI and UX Design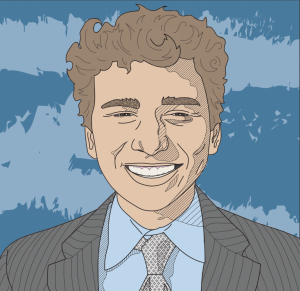 For this intern spotlight we sat down with Hector to learn about his experiences at TDi working on user experience design and how his passion for all things graphic design landed him a spot in this summer's cybersecurity internship program.
Hector initially found his love for graphic design by creating thumbnails for his YouTube videos. From there he pursued design courses in high school to learn more and build upon the fundamentals of graphic design.
Eventually he entered graphic design competitions, getting first in the DFW region, and even going all the way to the state championship, taking third place.
His focus in college is on UI and UX design and creating mobile app interfaces. We asked Hector some questions about his experience during the internship and his advice to other students who are considering an internship.
Intern Spotlight
What do you want to do when you graduate?
That's definitely something I have been thinking about a lot recently, because I'm approaching my senior year. Ideally, I would want to do something very similar to what I'm doing at TDi, like UI development and UI design.
How has your experience in the cybersecurity internship at TDi helped you on your career track?

It definitely skyrocketed my progress toward wanting to do UI! Prior to this, my choices have been either general graphic design or working as a social media manager. With my Cybersecurity Internship here, I've learned so much about the process of designing user flows, wireframing and creating mockups at a much higher level.
I'm able to put a lot of thought into the things that I'm doing, especially since we're working in advance for what we need to push out, so I'm not thinking "okay let's just get something done." I'm thinking a lot more about the quality of the product.
And in general, working with the engineering and devops teams has been super informative to understanding their thought process, and understanding the limitations of programming, so I'm not designing something extremely overboard. It's nice to sit down and understand where the limitations are and where my priorities should be.
What have you learned about cybersecurity that surprised you?

I've learned a lot and there's still so much I'm learning every day. Just working on the platform itself, working on all the dashboards [for ConsoleWorks] and realizing just how many devices and events there could potentially be.
There are things our team must consider for the ConsoleWorks user – if they're a beginner or light user of ConsoleWorks, or a heavy user that has multiple devices and dozens of events for each of those devices. Regardless of the situation, it's important that ConsoleWorks is user friendly and that all the performance and control is there at both levels.
Cybersecurity is definitely a lot more intricate than I originally thought and it's something I want to learn more about. I think that being in this position, I'm definitely learning every single day, which is exactly what I want to do.
What have you been working on?

I have been extensively working on designing both from the frontend, to creating documentation and going over other projects too.
The main priority has been on our dashboards. Creating new iconography for the widgets and giving it a facelift. We're heavily considering the feedback from our customers about how they use the platform and how they ideally want to use the platform. I'm trying to design the platform around their wants and uses to fulfill their objectives when using ConsoleWorks.
What's the most challenging part of your internship?
The most challenging so far has been that I'm so accustomed to that "get in and get out" type workflow from previous jobs. This is a lot more "take your time, make sure the product is good" so we get things in there without any issues.
I get to make my work professional and high quality before we're pushing it out to users. Because we have huge companies using our product, we want to make sure that the platform is top quality.
What has been your favorite thing about the internship?

My favorite thing has been presenting my proposals or documentation and ideas to devops, my mentor and others throughout the internship. It has been really refreshing hearing great feedback from them and on my work so far. It has been really reassuring.
What would you tell a student interested in interning at TDi?
I would say just go for it!
I know a big thing, especially for college students, is the fear of rejection. I've had that same fear myself. I applied for this position knowing that I am capable of doing all of the tasks that are required and that I have plenty of experience. Both work but also in-school experience. So, I applied, but I still had doubts in myself. But look where I'm at now.
Just know that you're more than capable of interning, whether it be here with TDi or wherever else your ventures take you. Just believe in yourself, that's the main thing.
Stay tuned for more Internship Spotlights
Keep your eyes fixed on our updates page as we have more intern spotlights coming throughout the summer!