Our on-going Intern Spotlight series, which highlights the experiences of interns at TDi, continues today with our DevOps cybersecurity intern spotlight. You can read about the experiences of other interns at TDi in our:
Intern Spotlight with Hector, our UI and UX Intern
Intern Spotlight with Jonathan, our Development Intern
Meet Carter, our DevOps Cybersecurity Intern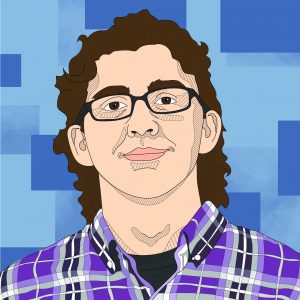 Carter is a DevOps intern here at TDi. His father got him into coding at an early age. While in middle school, he even developed two apps. One app, called "Geometry Helper," had you put in values you knew about a shape and the app gave you the information that you didn't know about the shape. His other creation was based on the gym game "Four Corners."
In high school he began thinking about where to apply his skillset, initially considering game design. He didn't think he would be able to do as much as he wanted in this field though, so he started looking at other areas to apply his skills.
In 10th grade, after he applied to an early college program for cybersecurity at his local community college, he found his new fit. Shortly after, he learned about TDi and started his DevOps cybersecurity internship in 2018.
DevOps Cybersecurity Intern Spotlight    
You wanted to get into game design in the beginning. Now you're in college, do you know what you want to do when you graduate?
Yea, I want to keep doing cybersecurity and go further into that field. As I've learned more about it, it has interested me more than the game design stuff. That's more like a hobby for me now.
What grabbed you about cybersecurity and made you decide to focus on it?
Just the mental image really, of having a computer and everything being open and available. In one of my cybersecurity classes, we did a capture the flag game where you break into a system and access certain stuff and that's just so cool.
Each team has a VM with certain files and there are tasks you can accomplish that give you hints of what you're supposed to do and where you're supposed to progress. Eventually, you find a specific file or access the machine and get something from it.
Has your DevOps cybersecurity internship experience helped you achieve your career goals?
In the beginning, it helped a lot because it gave me JavaScript experience and gave me a lot of opportunities to automate things, which has been helpful in my college classes and for stuff I've done at the internship. Especially the DevOps project I'm working on right now.
We go over a lot of cybersecurity benchmarks and baselines and recommendations. Automating those recommendations on devices has been useful because I can see that applying to the cybersecurity field. If you want to secure a device, you can go through these recommendations and you'll be more secure. Working with that, and especially all the different types of coding languages and working with teams has been helpful.
Is working in cybersecurity what you thought it would be or did something surprise you?
It's a lot more working with standards than I originally assumed it was. When I first went into cybersecurity, it's sort of the vision of the movie hacker just clicking away at a terminal screen. But then most of it, as I've seen at the internship while working with these security benchmarks, is that it's a lot more working with people and creating the best policies to deal with a threat before it happens instead of reacting as it happens.
What about working in software development, did something surprise you there?
I didn't expect JavaScript to have so many applications. Normally I think of it as just working with HTML for website stuff. But working with ConsoleWorks, I've found a lot more uses for JavaScript.
What have you been working on?
When I first started, I was working on automating and proofreading a lot of the help pages associated with ConsoleWorks. I was given a lot of HTML files and went through seeing if everything worked. If it didn't, I would fix it. Later, I was creating those files and working on ways to do those faster.
I also worked on a DevOps project that is similar and that automates the creation of ConsoleWorks scripts. Now, I'm working on the CIS baselines and some projects there. I've had a lot of small-scale projects in between, but those are the big ones.
What's the most challenging part of your DevOps cybersecurity internship?
The hardest thing is that I'm working with a lot of systems where you can't just Google what error code you're running into, because it's not something that's out in the public. I do a lot of my work sort of on my own with trial cases and then see where it breaks. If something in the script breaks, I have to go out and find the person who created that library, and work with them to figure out what the problem is.
Have you enjoyed working with everyone at TDi?
It's been really fun. Everyone contributes a lot, which has been better than my classes! Everyone I have worked with has been really nice and helped me a lot.
What is your favorite thing about working at TDi?
Besides the people being nice, it's cool that as an intern I can work when I have the time. When I'm in school, I can work after for as long as I need to get the project done. And because I live in Maryland, I'm far away, so I can do it remote. It's really accessible to get the work done. It's really nice.
What would you tell a student interested in a cybersecurity internship at TDi?
That they should apply if they have the chance. It's a cool company with cool people. It will help a lot with your job, working with a team and programming languages.
I really like how in the internship program, they say "hey, work with this person on the project," and then you're really at your own pace where you can go at it and if you run into trouble, you can ask a question. There's really no micromanagement. If you know how to do something, you can go in and do it. But if I need help learning something, there's always someone there that I can ask.
Keep Watch for More Internship Spotlights
Our Intern Spotlight is a series of posts throughout the summer highlighting the experiences of TDi's cybersecurity interns as they develop their skills to be the next defenders of IT and OT operations. To learn more about TDi's internship program, you can read our cybersecurity internship overview here.
Stay tuned to our updates page for the latest IT/OT cybersecurity posts and more Intern Spotlights.