Our Intern Spotlight series highlights the experiences of interns at TDi. If you want to read previous entries in our Intern Spotlight series, you can see our other posts below:
Intern Spotlight with Hector, our UI and UX Intern
Intern Spotlight with Jonathan, our Development Intern
Intern Spotlight with Carter, our DevOps Intern
Intern Spotlight with Julia, our Graphic Design Intern
Meet Franklin, our Product Engineering Intern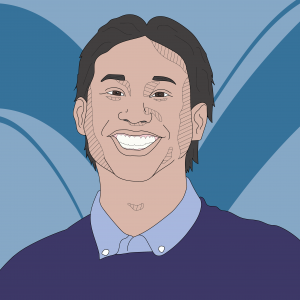 Franklin just graduated from college, where he studied applied computer science and concentrated on front-end web development. Prior to college, he was already coding and doing animation, but it wasn't until college that he saw how coding could be applied and how software was everywhere in his life.
Below is our conversation with Franklin about his internship and building his professional experience.
Leading into college you were already coding?  
I had coded a little bit – basic animation, HTML, JavaScript, CSS. It was in college where I really saw how coding could be used. Everything is software. I think that's just so cool. I get to work on something that has an outreach.
People don't really understand software, but it's everywhere.  You're going to see it every hour of every day. It has such potential to benefit everyone. I think how the modern world works, it runs on software. It's my way to contribute to society.
What led to you concentrate on front-end web development?
I noticed that the products that stood out to me looked really good. A product can work really well, but people's first impressions will be of the front end. How the UI or the UX works for a person. I'm a very visual coder. You don't really think about it, but the front end is art to me.
There are a lot of good coders in every department – data science, back end, but with front end, you need to have a bit of an artistic perception. I've always been interested in art and music my entire life. This is where it kind of unites.
In your product engineering internship you get to apply the things you've been learning – is it what you though it would be?
I think the big thing is that software engineering isn't 24/7 coding. A lot of what my internship does is being in staff meetings and seeing how they work together and from then on seeing how I fit into that. They have treated me really well. It's really cool to see how it works. It feels sort of like a homework assignment, because it's structured that way, but the code that I do actually outputs to a real product that people in the industry can see.
Did anything surprise you once you started doing your internship?
I've worked on team projects before and everyone here is so nice. You can tell everyone is passionate about coding. They're so nice to me about it. The overall positivity – you know in school, students get assignments and they'll get it done because there's a deadline and you have to do it, it's part of being a student – but here, you can tell people really do care about the company.
It's nice to have such a positive work environment. That's something that I was not taught. You can't really be taught about a work environment, how those atmospheres operate.
My school is very cooperative, I can reach out to any of my peers or teachers to ask for help. At the beginning of college, it was kind of daunting, you have to put yourself in that vulnerable position to ask for help. But then I was met with all this positivity, no questions asked, they helped me, and I didn't feel like I overextended myself. And it's like that here too. I don't feel like I'm imposing. Everyone makes me feel like I'm worth the time.
It's pretty flexible too. They'll give me an assignment and I can work on it. I don't feel like there's too much pressure. I just don't want to disappoint them because they're so nice. I don't feel really pressed for a deadline because I have to, but because I want to.
What projects have you been working on?
I've been working on ConsoleWorks scripts for different report types. It feels like one of my coding challenges. Each report has its own scripts and then you have to do certain things with them. I was just assigned to another one.
What's the most challenging part of your product engineering internship?
I think onboarding and just figuring out ConsoleWorks. It's a big program. Once I understood what the software did, then I could understand my part and what my code would do. Like all the tunnels, twists and turns in the software.
Has your internship experience helped you achieve your career goals?
An internship with a company like this would look good on a resume. As I do more, I can have specific things that would look good to recruiters and different companies.
I feel like whatever I do after this in tech, I'll be able to compare those meetings and team dynamics to what I've done here in my internship. It won't be unfamiliar anymore. It's the big takeaway from the internship – real industry experience.
What's your favorite part about the product engineering internship?
The guys at the meetings are kind of funny sometimes. They'll do little jokes and those gems make you smile. There's humanity in it. It's very light. They have a lot to do each sprint and you can tell that there's pressing deadlines, but they're light, they keep it chill.
What would you tell a student interested in a cybersecurity internship at TDi?
I would say connect with your team. They don't hold seniority in your face. You can ask for help or advice and they'll give it to you.
Internships are supposed to be a taste of a full-time job and having one remote is probably like the most authentic taste you can get now. When I'm coding, I don't think there's much difference from what I'm doing to a normal full-time engineering job. It's a really good comparison and you're getting industry experience in the comfort of your own home.
I think that's what a lot of tech jobs, if they haven't moved already, will move to remote work. This internship, just being on teams and having this whole online atmosphere, is pretty cool.
Keep Watch for More Internship Spotlights
Our Intern Spotlight is a series of posts throughout the summer highlighting the experiences of TDi's cybersecurity interns as they develop their skills to be the next defenders of IT and OT operations. To learn more about TDi's internship program, you can read our cybersecurity internship overview here. Stay tuned to our updates page for the latest IT/OT cybersecurity posts and more Intern Spotlights.