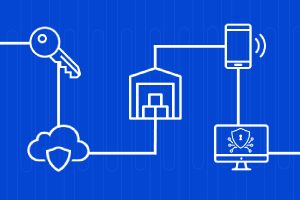 Supply chain security is a cybersecurity challenge with multiple touch points between vendors and partners, contractors and others. It's important that you are doing what you can to enforce proper supply chain security best practices. Being able to support vendors while protecting your data and processes is critical to your business.
We've previously discussed the importance of supply chain security and how you must account for it in order to go beyond a Zero Trust cybersecurity baseline. Today, we're taking that further by providing the top supply chain security best practices.
Why is Supply Chain Security Important
Supply chains are becoming ever more complex. As technology has introduced incredible efficiencies into supply chains, it also brought new risks as new touchpoints within the chain were created. Therefore, mitigating these risks that are introduced is critical to maintain the security of your network.
Maintaining this security can feel like a moving target, however. As supply chains grow and include even more third parties, all needing certain levels of access to your network in order to perform their role, it makes a potentially easy point of weakness in your defenses. That increased integration with your partners and the network access and data being shared, on top of unknown disclosures around security practices, can feel like a difficult combination to secure.
This is why we stressed the importance of evaluating your supply chain in our beyond Zero Trust series. Evaluating your supply chain cyber security means considering more than the product itself of a company you are considering, or how a partnership can add value to your business. You need to consider what those businesses are doing to ensure they are safe from an attack and are protecting those involved in their supply chain. You are only as strong as your weakest link in this chain.
How to Protect Your Supply Chain
It's important to remember three key things when securing your supply chain:
Your defense should be based on Zero Trust. Never trusting connections or devices, and assuming that a breach can happen any time.
Breaches result from a lack of cybersecurity knowledge or proper security. Ensure that your supply chain is taking cybersecurity as seriously as you are, educating their employees with cybersecurity training and doing assessments like the SOC for Supply Chain
Every link in your supply chain must be strong. You are only as strong as the weakest link within it.
With these principles in mind, let's look at the supply chain security best practices you should be following to make sure that you are on your best defense against a potential breach.
Supply Chain Security Best Practices
Assess Your Partners – We've stressed the importance of this before, but you are truly only as strong as the weakest link in your chain. You should make sure before accepting anyone into your supply chain that you are evaluating how they manage their own security. Do they train their team on cybersecurity best practices and penetration test their product and company? Security requirements must be an important part of these discussions. Once they have been officially accepted into your supply chain, your team should be working to address vulnerabilities or security gaps that could be introduced.
Role-based Access Controls – Secure, least-privileged access needs to be emphasized. You should know how your supply chain accesses your network and you should only be granting access that allows them to accomplish their role and nothing else. You should always be verifying their identity, just like in the Zero Trust model, no inherent trust should be permitted to any partners.
Know your assets and who is accessing them – In addition to access control policies, it's important that you know the assets on your network. You won't be able to properly define who should be accessing what without the knowledge of what those assets are and how they are configured. More important, this is something you should be doing all the time, not just once and then moving on. If you do not know where the front door of your business is, then you can not set a proper perimeter to defend it.
Incident Response Planning – We talked about critical elements in an incident response plan, and it extends to your supply chain as well. You must be prepared in the event of a breach and have protocols in place to act fast. Any time wasted with confusion can mean drastic impacts to your business. Everyone must be prepared and know their role should an incident occur that needs your team to react quickly.
Steps for a Better Defense
These supply chain security best practices will get you started on the path to better security and help you manage the ever-evolving complexities within it. As partners in our customer's supply chains, we ensure that we are doing our part to not only help them enforce their cybersecurity needs, but penetration test our product and company. It's also why we completed our SOC for Supply Chain examination.
To make sure you're meeting your Zero Trust needs and going beyond them, you can talk to us here about your cybersecurity requirements and how ConsoleWorks can help you achieve your IT and OT security requirements.