The new ConsoleWorks 5.5 release updates put you front and center. With new dashboards that help you visualize and prioritize key devices, events and areas that need attention, and a Reflection System that is empowering your teams to achieve compliance, regulatory and architecture needs (Purdue, IEC 62443) with centralized or distributed architectures.
New Operations Dashboard and Widgets
The 5.5 release introduces new dashboard and widget updates making ConsoleWorks easier than ever to use, while increasing your productivity and keeping your security front and center.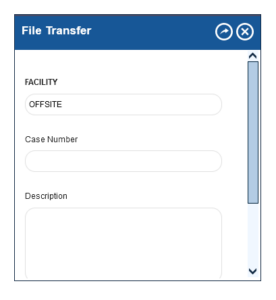 Action Bar
Sometimes you need to do something quickly and searching through your interface to get to that action can be a timely process. The new action bar lets you quickly execute on-demand actions on selected assets in your fleet, from managing/denying Just in Time access requests, rebooting endpoints, pulling reports, downloading files and more. These actions are at the tips of your fingers.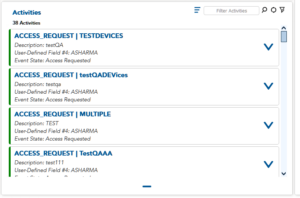 Activities Widget
Events related to your assets are important and you need to know about them. Now you can separately visualize events based on user-specified categories. Visualize and define events based on your specific needs (ex: filter based on certain vendor events or process events only).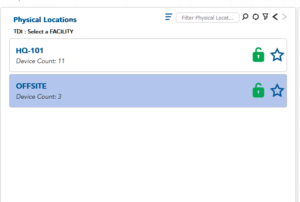 Grouping Widget – When your fleet is large, it can be difficult to know what assets or events need attention first. With smart filtering, you can drill down on those assets and events to identify your areas that need attention first. Group assets based on any number of categories (security, business unit, location, etc.)
Centralized or Distributed Management with Reflection System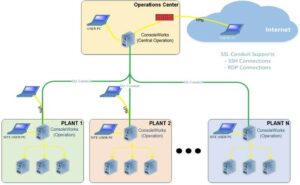 ConsoleWorks 5.5 introduces our new Reflection System. It enables distributed architectures and security at a unique level of granularity. Those with distributed architectures can initiate communications from higher-level security zones to lower ones, enabling a secure conduit that grants new operational efficiencies and situational awareness.
Compliance, Regulatory and Architecture
Maintain compliance, regulatory and architecture needs like Purdue or IEC 62443. Isolate systems and control communications between security zones and conduits. Enforce Zero Trust architecture.
Security and Zero Trust
Receive awareness from all sites, see what is happening where. No trust is granted to a lower zone, access must be initiated from your higher zone.
Control and Operational Efficiencies
Distribute files across your fleet quickly. Drop file into a source and share through one conduit and secure path. Your conduit has authentication at both ends and can perform multiple functions (file transfer, remote access, identity/event management). With communication direction being initiated from the higher-level security zone to the lower (like site/plant owners controlling access requests and file downloads), you maintain control in your distributed architecture.
See it in Action
Those are the biggest updates you can expect in the new ConsoleWorks 5.5 release. To see ConsoleWorks in action and how it helps you enforce your needs while increasing productivity and ease of use, you can see our new product demo here.
If you have more questions about how ConsoleWorks can help you or want to see a personalized look at it, contact us here!