It's official! We are excited to announce our new features in ConsoleWorks.
New, enhanced usability provides an easy and intuitive view to take action fast.
---
Compliance & Situational Awareness Dashboard
ConsoleWorks Continuous Monitoring and Situational Awareness Dashboards provide a real-time overview of the current state of the environment, enabling security and compliance personnel to quickly analyze data and then take action.  The comprehensive view summarizes the overall state of risk regarding compliance and security.
Security and compliance teams can quickly address gaps, eliminate threats, deny unnecessary connections, and keep security and compliance policies up-to-date and enforced.
The NERC CIP Compliance Dashboard provides a quick view and status of various compliance requirements, such as:
Review of asset classifications required every 15 months
Review of Privileges required every 15 months
Notification if an asset is not in an ESP
Notice of Patches identified that have not been addressed within 35 days
Notification of Failure to Log
Status of Password reset policy violations
Notice of Unsuccessful / Failed Login Attempts
BCM differences that have not been resolved within 30 days
The Dashboard Widget Designer allows any information defined in ConsoleWorks to be extracted and displayed as a chart. Warning thresholds can be easily set to provide early notifications, allowing time to address issues before compromising compliance thresholds.
Enhanced Operator Interface
ConsoleWorks Common IT / OT Operational Interface provides a single, simplified view that can be customized for individual workflows. The intelligent and dynamic filtering capabilities enable faster issue remediation and problem-solving for both IT and OT environments.
Built with a secure foundation with compliance and operations in mind
Built on the ConsoleWorks granular, role-based permissions model
Inter-widget communications enable intelligent filtering across ConsoleWorks components – Assets, Events, Logs, Tickets.
Intelligent Filtering enables faster issue remediation/problem solving
Tightly integrated with leading ticketing solutions for faster time to resolution
---
Compliance & Situational Awareness Dashboard Sample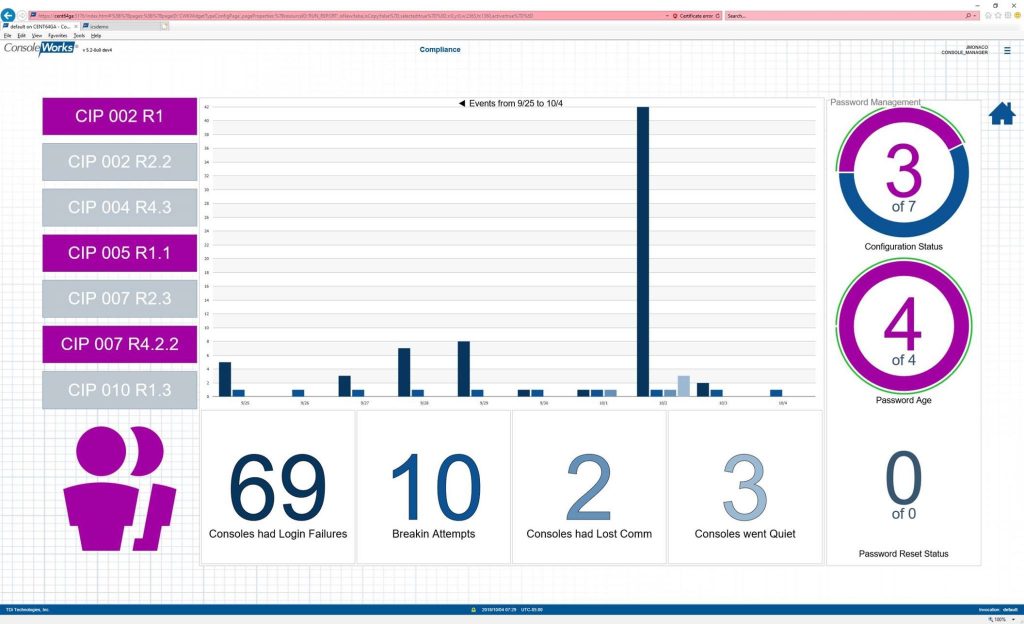 Enhanced Operator Interface