Our Intern Spotlight series highlights the experiences of interns at TDi. If you want to read previous entries in our Intern Spotlight series, you can see our other posts below:
Intern Spotlight with Hector, our UI and UX Intern
Intern Spotlight with Jonathan, our Development Intern
Intern Spotlight with Carter, our DevOps Intern
Intern Spotlight with Julia, our Graphic Design Intern
Intern Spotlight with Franklin, our Product Engineering Intern
Intern Spotlight with Jacob, our Software Engineering Intern
Meet Matthew, our DevOps Software Engineering Intern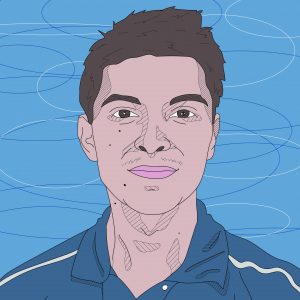 Matthew got into computer programming in high school after taking a few classes on the subject. From there, he and his friends got into robotics and even set up his school's robotics team. He enjoyed being in an environment that allowed him to learn programming, to build things and to enter competitions.
In 10th grade he took an internship documenting patch notes. Here he realized this was an area he liked as a potential career path. Between this experience and taking more programming classes, he made his final decision to switch from a mechanical engineering degree to computer programming in college, where he is starting his senior year. Below we talk to Matthew about his experiences.
What is your focus in college?
In college I went in with the idea of going into mechanical engineering. I eventually changed my mind and went into computer programming. The classes are pretty fun. I've taken a course in graphic design and app design, and those are probably some of the most interesting classes I've had. They were really fun and I thoroughly enjoyed them. This year I started my internship here too.
What projects have you been working on in the DevOps software engineering internship?
Initially I was working on setting up the checks for baseline processors in ConsoleWorks. I did that for a couple of systems, mostly Windows operation systems. After that, I went into all these security standards. I was working on CIS controls and other standards, so HIPAA, NIST CSF, CMMC, NIST SP 800. I was working on creating spreadsheets for all the controls for those and mapping them to CIS controls to see which ones are related. It was fun trying to figure out Excel and in general speed up the process, making it look nicer and then importing it into the system. That was the second thing that I worked on.
Now I'm working on a log cloud, which takes in log files and shows it in a word cloud. The more occurrences there are for a word in the log, the larger it is and the closer it is to the center. The less occurrences, the farther away it is from the center and the smaller it is. I've been working on making it in general look better, trying to get the animations set up, the settings for it set up, and also trying to get it to work with the logs.
Do you think working on these projects has helped solidify that you picked the right major over mechanical engineering?
Yea, for sure. I feel like I'm enjoying programming a lot more than I would have enjoyed mechanical engineering.
How is it working with the team here in your DevOps software engineering internship?
They're all really nice. Any time I have a question I reach out and they respond back quickly. It's nice being able to ask questions and work with them on the best approach to take. It's definitely really beneficial to all the stuff that I've been learning.
What has been really challenging for you?
The most challenging thing I've had to do so far was integrating the script that I have into ConsoleWorks. Trying to learn how ConsoleWorks does it and integrating what I have into that has been a bit of a challenge. There have been a couple of methods that I haven't had available to me. It's been a bit of a challenge to find work arounds, although it's also been pretty fun to find those workarounds. Integrating that has been a challenge.
You're going into your senior year, it's the home stretch for you. Are you wanting to stay in cybersecurity?
I am looking to stay in cybersecurity and stay in programming. In my senior year I'm looking to get a couple of certifications for cybersecurity and get further into it.
What's your favorite part about the DevOps software engineering internship?
I really like being able to work on the projects. It's been fun being given work on this task and just going through and trying to finish it and make it look good. I've been really liking the problem-solving approach for it all.
What would you tell a student interested in a cybersecurity internship at TDi?
Just have fun and learn while they're here. I've learned quite a bit while I've been interning here. It's definitely good to take away the experience from this and just to have it available. It's been really fun. The internship has been one of my better job experiences.
Keep Watch for More Internship Spotlights
Our Intern Spotlight is a series of posts throughout the summer highlighting the experiences of TDi's cybersecurity interns as they develop their skills to be the next defenders of IT and OT operations. To learn more about TDi's internship program, you can read our cybersecurity internship overview here.
Stay tuned to our updates page for the latest IT/OT cybersecurity posts and more Intern Spotlights.